Nutrition Services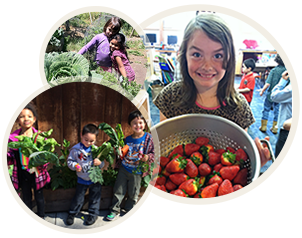 At Pacific Valley School, we recognize the important connection between a healthy diet and a students' ability to learn effectively and achieve high standards in school. We are proud to provide our students with access to nutritious meals and snacks while they're in our care. You can learn more about our commitment to your child's health and well-being on this page.
Nutrition Program
Recognizing that good nutrition is a basic condition of learning, the nutrition program has three primary goals.
To introduce a wide variety of nutritious, wholesome, and freshly prepared meals using unprocessed ingredients from our local region and our very own garden
To educate students about nutrition, health, and the impact food choices have on their health
To meet and exceed state standards in nutrition and encourage healthy choices through education and example
PV Nutrition Guidelines
We follow these basic guidelines to help us meet our goals:
Our wholesome menu includes fresh fruits and vegetables, both raw and cooked, every day. Many of these come from our school garden.
Menus may vary slightly according to season, available ingredients, and the creativity of our chefs, who will recognize any known food sensitivities or allergies parents list on the school questionnaire.
Pacific Valley School encourages healthy choices whether students are enjoying homemade or school meals.
We strive to eliminate processed food, hydrogenated and partially hydrogenated oils, GMO's, refined sugars, high fructose corn syrup, refined flours, chemicals, dyes, additives, and nitrates.
We strive to provide nutritionally-complete, vitamin-rich, and well-balanced meals that include plenty of fiber, protein, gluten-free options, and milk and protein alternatives.
We encourage a collaborative team effort among kitchen and garden staff, following daily guidelines and safety protocol.
We remind ourselves daily how lucky we are and that we are here for our students.